Swimco x Miraclesuit Fit Experience
Miraclesuit Fit Experience & Trunk Show

Swimco will host consumer events on Saturday, January 18 at Square One & Sunday January 19 at Upper Canada Mall featuring preeminent luxury swim brand, Miraclesuit. Customers can RSVP directly on Swimco's RSVP page: https://www.swimco.com/rsvp
Susan DeMusis ​ President of Miraclesuit will be on hand along with Miraclesuit's fit experts, who will be offering custom fittings, a gift with purchase, and the chance to win a Miraclesuit wardrobe.
Media Invitation, please rsvp to [email protected] by January 13: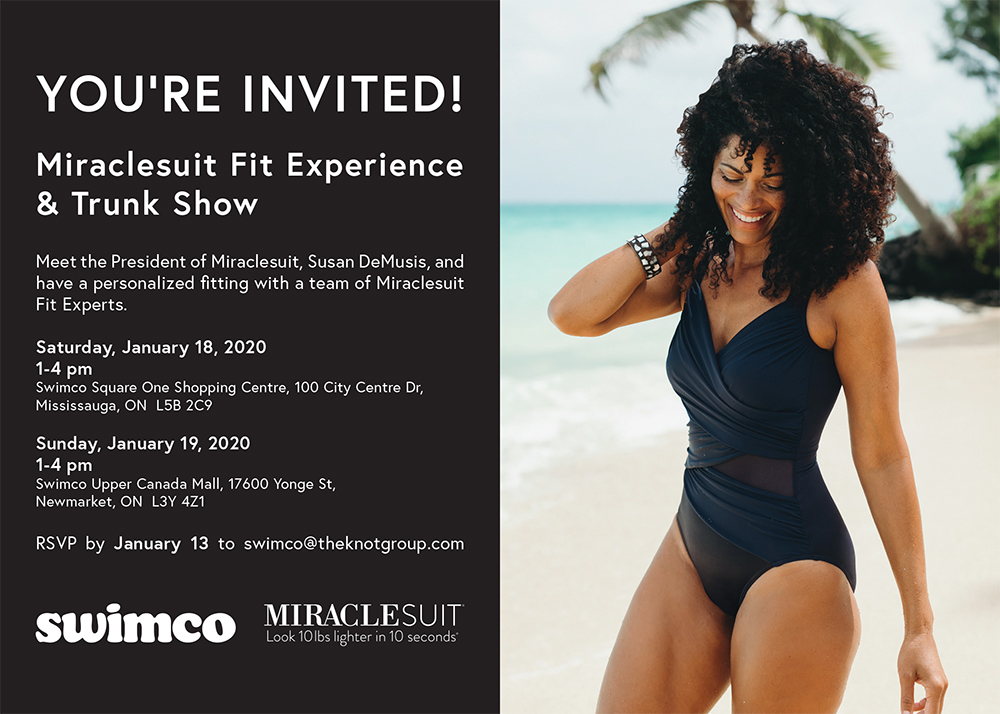 Event dates & locations
Saturday, January 18, 2020, 1-4 pm
Swimco Square One Shopping Centre, 100 City Centre Dr,Mississauga, ON L5B 2C9
Sunday, January 19, 2020, 1-4 pm
Swimco Upper Canada Mall, 17600 Yonge St,Newmarket, ON L3Y 4Z1
About Miraclesuit
Miraclesuit was created with the vision of how women see themselves and how they would like to be seen when they put on a swimsuit. Figure-flattering and awe-inspiring, Miraclesuit swimwear delivers fit, form and function with style. Every suit is crafted from Miraclesuit's unique Miratex fabric to give a women's body the support, fit and shaping it needs regardless of her flaws or size.
Miraclesuit lifestyle images & President bio
Susan DeMusis, President of Miraclesuit, Bio
PDF - 180 Kb
Download