Swimco's latest campaign redefines what it means to be a swimsuit model
Canada's premier swimwear retailer will change the way we think about what is 'aspirational' with new campaign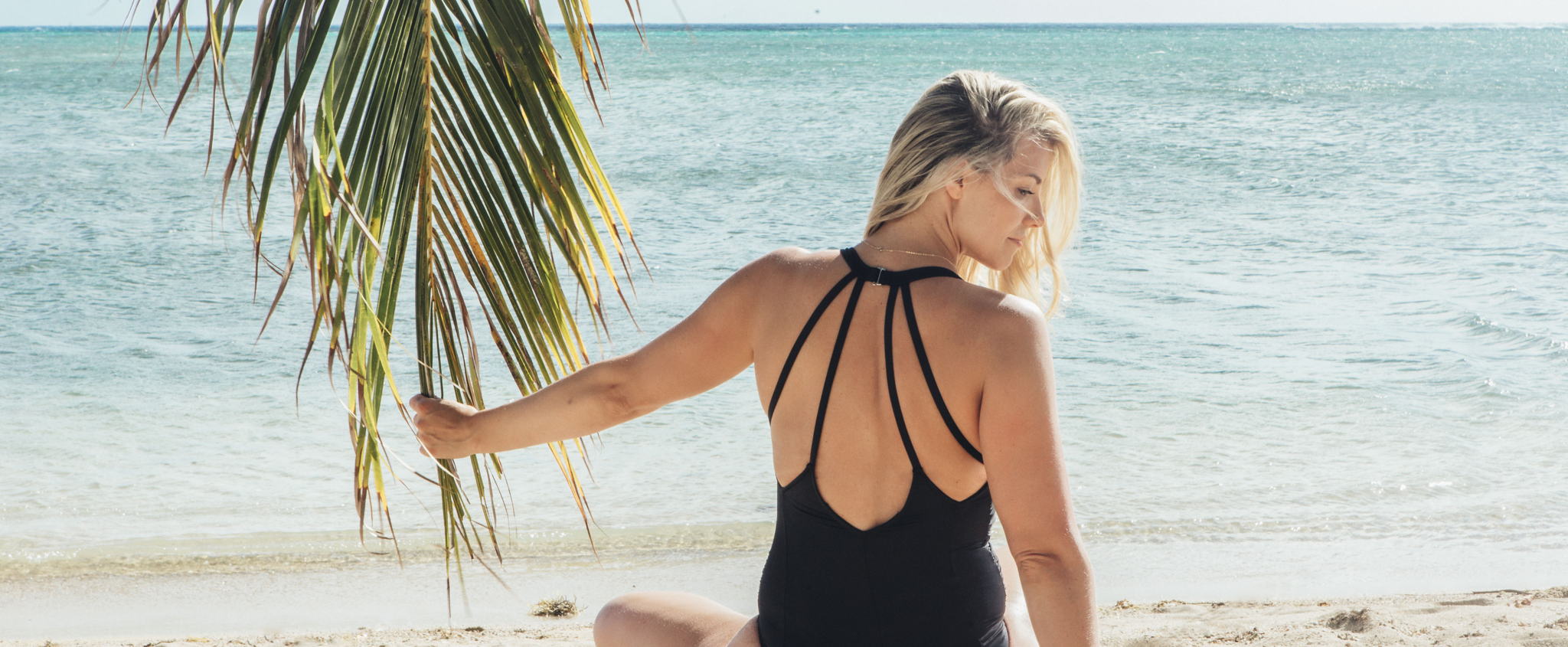 Swimco, Canada's leading swimwear retailer, is launching a new omni channel marketing campaign using real people as models. Swimco has selected seven inspiring men and women to represent the brand in this season's advertising, social media, ecommerce and in-store collateral that redefines what it means be a swimsuit model. 
"Our core values have not changed since the brand's inception in 1975. We are committed to making our customers feel confident in swimwear, so they can be free to enjoy some of the best experiences of their lives. That's what we are really trying to express with this new campaign." ​ Says Lori Bacon, Owner & President of Swimco "A beautiful body doesn't just mean thin, curvy, or sporty. What makes a body beautiful is that it's yours, because it allows you to live the life you love. What makes a body beautiful isn't how it looks, but how it lives. We want to inspire our customers to live their best lives while feeling good half naked."
Making a conscious decision to focus their marketing and advertising efforts highlighting people who lead aspirational lives, rather than what society has defined as "aspirational bodies", Swimco has hired exceptional people they believe personify this new direction — people living their best lives. "Models" were given the opportunity to collaborate on a photoshoot, decked out in Swimco apparel on the beaches of Hawaii. The magnificent results from this photoshoot will become this season's campaign images.
"These real people were chosen for this campaign because we feel they embody the qualities of our new brand vision." Says Krista Kerth, Marketing Director for Swimco. "These men and women have inspiring stories to tell — from career and body changes to finding light in dark times — each have an uplifting message to share. The campaign isn't about an aspirational image per se but the aspirational lives of the people within the image. All seven of our models are relatable to real people because… they are real people."
With the #swimsuitmodel campaign, Swimco joins the ranks of other brave brands and individuals taking bold steps to show people's bodies as they actually are rather than perpetuating unrealistic beauty standards. In adding to this important conversation, Swimco feels not only are they being true to themselves as a brand but feel this will enable them to connect with their customers in a more meaningful way. Now, more so than ever, people are conscious of the images presented to them and the definition of what aspirational means to savvy consumers has changed in recent years, but the advertising that targets them hasn't always followed suit. Aspirational is no longer simply what happens on the surface — it's a person's unique lifestyle and inspirational story.
Here is some information about each model, their unique story and what this campaign means to them: 
Nikki Utley, @nikkigrowfit
Nikki hails from New Jersey and is a CE Certified Personal Trainer, Registered & Certified Yoga Alliance Instructor and is the Creator/Publisher/Editor-in-Chief of BFW Magazine. However, working as a health professional is her second career. Her first passion was working as a television producer, working with Donald Trump's The Apprentice and Oprah's Your Own Show, experiences which ultimately inspired her to try and make a difference in other people's lives - becoming a health, wellness and fitness professional is a true calling. At 43 years old she gave up everything to start over and make a difference.
"I'm just an ordinary girl who aims to do extraordinary things in life. I aim to educate, empower and inspire women to go after all that they desire, to be comfortable in their skin, to know their voices matter, to take risks, to be braver than their fears and to live their best life no matter their age." Nikki isn't afraid to be herself. ​ Whether it's in real life or on her social media, she's not afraid to reveal is all. "I'm not afraid to get REAL. Not everything is happy and joyful but it's how I handle and bounce back from the dark times in my life...that's what makes my journey inspiring. I tell myself all the time to BE BRIGHT. BE GRATEFUL. BE YOU. I'm 43 years old. I'm not married. I don't have kids. I don't own a house or car. I have debt. There are lots of things I could be crying about but I refuse to allow my past mistakes/poor decisions to define who I am or my path in life. We all deserve a joyful and abundant life. So I will continue to work on getting it."
When asked about body confidence Nikki said: "Take the focus off your body and just get to know who you are and that simply begins with doing things in life that make you feel good about yourself." 
Jessica Janzen Olstad, @jsjanzen
A Winnipeg native, Jessica is an entrepreneur Fitness & Lifestyle Blogger living in Calgary. Four days before her 30th birthday she quit her big corporate job and walked out on security, benefits and all she I knew. Over the last 3 years she has discovered what lights her up, even after going through one of the darkest experiences one can imagine. ​ 
"I am living my best life yet. It has taken me losing my son to get to this point. What a wakeup call. I have found my voice, my purpose and my reason to do all of my crazy. I hope it doesn't take others losing something so precious to wake them up and say - HEY! HEY YOU!. GO GET IT! You're gonna fall, just get back up and keep going. If there is a nudge in your heart follow it. It will be worth it, that I can promise - not always easy, but worth it."
Jessica hopes that sharing her story will touch or help someone and believes there is power in being vulnerable. ​ 
On why she decided to be a Swimco #swimsuitmodel? "I decided to participate in this campaign because I truly want ladies to stop sitting on the sidelines covered up and missing out the memories. Have fun and feel confident. Life is meant to be lived, not to be tucked into the corner. I have lost 50 lbs, had 2 babies, had my boobs swallowed up and shrunk like crazy from breastfeeding my sweet babes and then worked my butt of to get back into good shape after sitting in a hospital for 3 months while I was fighting for my sons life only to have him pass away in a hospice. If I can do it anyone can. I've got a big butt and thick thighs and loved that Swimco didn't see a sports illustrated model but they but saw a healthy strong body who wants to be a light for other women around her. My life is aspirational because I choose joy, because I choose to live a big, bold life. It's not easy but it is worth it." ​ 
Kelcey Wright, @kjwright
A Sports Journalist and former university basketball player from Toronto, when Kelcey graduated university and ended her basketball career she decided she wanted to stay in the world of sports to help other athletes tell their stories. She turned her love for the game into a career. With this campaign, she wants to show her fans and social media followers that everybody has insecurities, no matter how successful or how "perfect" they appear to be. 
When asked why she wanted to share her story, Kelcey said: "I gained over 25 pounds after I stopped playing basketball, and although challenging, I want to show my fans and social media followers that you can be confident in your own skin. I discovered that I am able to overcome fears and emerge more confident and stronger than ever before. And I realized that I am able to help others do the same, because that is a very important message to (everyone) but especially ex-athletes who see their bodies changing once they stop playing sports competitively." ​ 
Dani Goddard, @dani_girlsofto
Dani is a Blogger and Content Creator living in Toronto. ​ Full of energy, passion and determined in every way, Dani loves exploring all aspects of city life and sharing her new discoveries with her fans and social media followers. After leaving her 9-5 marketing job, she felt lost but motivated to find something more. She went from running her blog, girlsofto.com, part-time to making it her full-time career. Now Dani boasts a robust digital viewership and with this campaign she hopes to open up a little more with her followers and inspire them to live their best life with no regrets and remind them how good that feels.
"Focus only on what makes you feel amazing and encourage and push yourself to discover beautiful things about who, and what, you are." When asked about the campaign and what 'aspirational' means to her, Dani said:"In a world full of social media and only seeing everyone's "highlight reel", it's easy to doubt your growth, so I hope that my followers can relate to my journey and remind themselves that it is a beautiful thing when you are honest about yourself. ​ I decided to participate in this campaign because I wanted to give women the visual reminder that there are so many variations of beautiful bodies in the world. I am a former national athlete and though I can struggle with self-doubt at times like anyone else, I know that I am powerful and strong, and beautiful in my own way, and I want that to be a reminder to other women out there. I believe that leading an aspirational life has more to do with what makes YOU happy than anything else. As long as you are living your best life and encouraging, inspiring and motivating yourself, there is no reason why that can't reflect on others." ​ 
Julian Brass, @julian_brass
Julian, a Motivational Speaker, Writer, Health Coach and entrepreneur from Toronto, inspires people to live their best lives and be the best versions of themselves. Whether it is through email, social media posts, or workshops, Julian seeks to motivate in any way he can and says this path chose him and he does it for you. He hopes to inspire people, bring light into their day and embrace life — being ready to live it to the fullest at all times, even when it's easier not to.
"I'm just a regular person who created it all from scratch. I wasn't gifted anything that I've built. It was all through focus, passion, not giving up, and believing in a force greater than myself." ​ Julian's thoughts on the campaign message and what it means to be a #swimsuitmodel? "Body Confidence goes hand in hand with Body Gratitude. We need to be grateful for the bodies that we have, for what they allow us to do, for the lives they've enabled us to live, for the experiences they've taken us on. We need to be grateful for what they let us create." ​ 
Jade Wishart, @jadeyalexandra
Jade is a Creative Consultant from Calgary, an adventurer that loves to travel, explore and capture every moment with the hope that she can inspire others to create and experience their own adventures and find some balance in the hustle and bustle of life.
"I feel like I live a pretty typical life - working corporate Monday to Friday sometimes more than 9-5. But outside of that, I've found what truly grounds my heart - my art, the outdoors and exploring new places, and doing it with good people. I think it's important to take time for yourself, find what grounds you so you can have a healthy balance in your life. Not everyone likes to hike, not everyone likes to take pictures, not everyone likes to be IN pictures, but that's not the point, the point is that when you find what drives you, what grounds you, what recharges your batteries after a long week - you embrace it and you make time for it." What she thinks about the new campaign?" Feeling badly or self-conscious about your body shape can be so heavy and draining. You can spend so much time looking in, that you forget to look out and see what's really important in life. I love that Swimco's message is to feel comfortable enough that you can look up and live your best life." 
Brennan Badgley, @brenbadgley
Brennan is a Technology Consultant from Calgary, Alberta who loves working with people to solve complex business problems. In his spare time he enjoys sports, going on adventures and exploring the outdoors, capturing every moment with his camera. ​ Brennan hopes to inspire people to strive for balance and happiness in life.
"Everyone has struggles, including me. I've had struggles with my confidence and my insecurities. I've worked very hard to learn and appreciate myself. The word genuine is very important to be. Being genuine to yourself and to others around you has truly made me happy." When asked about his experience working on the campaign, Brennan said: "Thank you, thank you, thank you. Not only does this campaign reach the masses but it reached me. From a kid who has battled with depression, insecurities and bullying over many years of my life, I have worked so hard to get where I am. Working with Swimco was the icing on the cake. I want to tell my story one day because if it reaches one person, it's worth it. I hope that this is the start of my story telling." 
---